I have been wanting to update our kitchen since we moved in, four and a half years ago. However, I knew the one we had was just fine, and wanted to save up some money to do a new one. I knew my husband had already reached his limit of
one big project a year
so I decided to live with it for a few more years and not say anything. However, one Saturday afternoon, just under a month ago, I came home to this...
I wish I could say my husband was trying to surprise me with a kitchen update for a Christmas present, being the awesome husband he is, but that is not so (the present is not so, don't worry, he is pretty awesome). Our Fridge had been leaking water for a while (which we knew about), but we always wiped up the water and kept some towels under it. Well, My husband decided to investigate and found some water damage. Being the worrier thorough person he is, he decided to rip out a large portion the damaged floors. Naturally we decided this was the best time to do some updates in the kitchen.
I hurried and grabbed the camera for a before shot, sorry I don't have a real before shot, you know where the kitchen was put together, not a mess, and actually functional and clean. But, this is the best I have, since the demo started when I was not home. You get the idea of what it looked like before
I painted the cabinets with an
expensive
high-end, self-leveling paint, that I was assured was the perfect paint for the job. I really wanted to use INSLX cabinet coat paint (I have read other
blogs
, saying it is a dream to work with), but could not find it anywhere. I got SATIN IMPERVAL paint from Benjamin Moore, and used the color gentle cream. I really wanted it to be a subtle cream, not yellowy. Since it was self-leveling, I did not sand or prime. I am happy with the turn-out and do not regret not sanding, but I do think they would have turned out better if I did sand. I am not going to lie, it was a big job. I took off all the doors and drawer fronts and hinges, and I did two coats in most places, but three in some. I only used one can, I have a little left for touch up, but used almost all of it
I also painted the back wall red, which is my absolute favorite color, and I am a total sucker for anything red. This is totally my favorite red, and I also have a kids room painted the same red. It is the Ralph Lauren brand and it is called "Hunting coat red" I got it at Home Depot a few years ago, and when I went to get some more for the kitchen they told me that although Ralph Lauren still makes the paint, they do not sell it for individual use, so they matched it in Behr paint. I only did two coats, we got the paint with the primer in it (I had to do three in the bedroom, when I did it a few years ago, in addition to a coat of primer in the bedroom)
I bought the knobs and drawer pulls a few years ago, but never got around to putting them on until now.
My husband put crown molding on top the cabinets, and moved the center one up, so the microwave would fit. He just googled how to do it. He ended up adding a 1x2 piece with the nail gun, and then nailed the molding to that, since there was no room to nail gun the molding straight to the cabinets.
Although I think I worked hard, my husband got the raw end of the deal. He also did the counters, floors and installed the microwave and dishwasher. We got the butcher block counters at
IKEA
They are pretty affordable, comparatively. we chose the beech wood (they have oak and one other, I forget), because it is the hardest of the three choices. The prices are on their website. They do not make any cuts, but you can buy different size pieces. You do end up buying more than you might need. My husband cut the counters on a table saw, and then rounded the edges. He used a jig saw to cut out the hole for the sink. He removed the old counters and attached the new ones. He also sanded and treated the wood. He treated it with three coats
waterlox
(after reading a lot of forums the best way to treat butcher block counters). That was one can, then he did about three more coats of a pure tung oil, he got at a specialty wood store (only because we ran out of the waterlox and did not want to wait for more waterlox to be shipped, we could only find waterlox online). surely you could just do more coats of waterlox. I LOVE the new counters, especially with the cream counters and red wall, it is just my style (unless I had money for brand new alder cabinets). We could not find beech wood for the wood back splash, so we bought some pine 2x4's and treated them and my husband routed them, to look less like 2x4 blocks. We attached the back splash with screws (straight to a stud, doing minimal drilling) and filled in the holes with wood putty.)
My husband also replaced the floors he had torn out. This was a real hassle, we needed them to match the rest of the floors (I was not about to replace the floors for the whole upstairs), but the manufacturer went out of business about a month ago. After about 100+ phone calls, I found a flooring store in a small town in CA that had a few boxes still in stock! It was such a relief, I was getting really discouraged when I could not find them anywhere. The good news was, I got them at a huge discount, since they were discontinued, the bad news was I had to pay $100 to ship them out here. They also have a different tongue and groove connection than the original, so there is a small crack where they meet the old floors, but it is not too noticeable.
My sweet husband stood in line on black Friday (call me scrooge, but I hate black Friday, not amount of savings makes me want to go shopping on that day). My husband thinks it is kinda fun (so he says) and he got us a good deal on a new microwave, dishwasher and fridge. I appreciate him standing in line when it was 10 degrees outside at 3 AM, so we could have some new appliances. One day we will get an oven to match, but we maxed out our budget, and will have to save for a few years.

We might get around to installing new lighting one day. We did put some lights on the top of the cabinets, for evening lighting. I can't find the link, but I found the idea from some creative blogger (sorry you don't get credit, whoever you are) we put a string of white rope Christmas lights up there (you can't see the actual rope, the cabinets hide it) and got something that plugs into the outlet making the outlet controlled by a remote. so we use our remote to turn them on and off). I tried to take pics of the evening lighting, but it did not really work out, I don't really know how to do a long exposure to capture it. We also put a few small speakers on the top and ran a wire through the cabinet, so we can plug our Ipods in and listen.
overall, I am really happy with the way it turned out, considering our budget was small and we did it all ourselves.
the best part is, my husband wanted to be the first to break it in, and spent all afternoon on Sunday preparing the delicious German meal. Although I don't mind cooking, I love when I don't
have
to cook.
Also, I am proud to add, that during the three and a half weeks our kitchen was out of commission, we did not eat out once (but we did eat things like sandwiches, pasta, pancakes, and crock pot meals)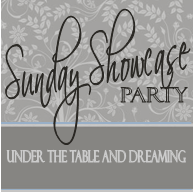 I am linking up here